Architects are trained to understand the design and construction process and can help you create a functional, beautiful, and safe building. But you don't always need an architect for your construction project, especially if it's not complex and you think you can try the other method discussed in this design guide. Remember, if you are planning a simple renovation or addition, you may be able to manage the project, especially if you have experience in construction or design. However, if you are planning a more complex project, such as a new home or a large commercial building, it is recommended that you hire an architect.
Why is an Architect Important for a Project?
An architect is a professional who is trained and licensed to design and oversee the construction of buildings and other structures. Architects are responsible for creating safe, functional, and aesthetically pleasing buildings that would ultimately meet the needs of their clients and comply with local building codes and regulations. Architects are essential for a project for the following reasons:
Architects are experts in designing functional, beautiful, and sustainable buildings through their training and understanding of design principles, construction techniques, and materials.
They oversee all aspects of a building project, managing the budget, schedule, and resources to ensure timely and cost-effective completion.
An expert architect ensures compliance with building codes, zoning laws, and regulations, obtaining necessary permits and approvals for the project.
They help clients save money by designing efficient buildings that minimise energy consumption and reduce long-term maintenance costs.
A well-designed building can increase the value of a property and attract more tenants or buyers.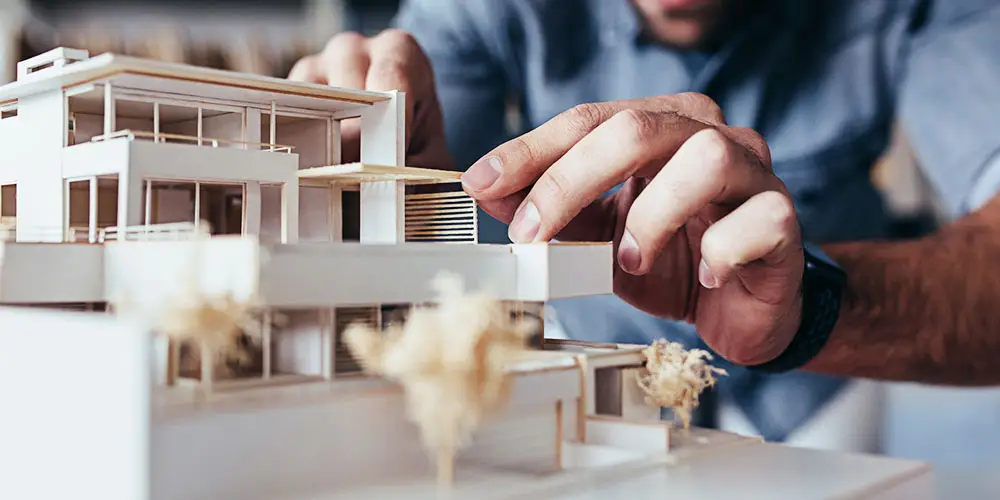 Some Cost-Effective Alternatives to An Architect
Although hiring a professional architect to design or redesign a house, commercial building, or project is suggested, you can work it out without hiring one. But there are several alternatives to hiring an architect for a building project, but they may not offer the same level of expertise and services that an architect can provide. The following are the alternatives instead of hiring an architect.
Design-Build Firms
Design and build companies provide a package deal for design and construction services, employing professionals such as architects, engineers, construction managers and architectural technologists to deliver a completed building project. These companies typically have in-house architects to design different architectural drawings for your project. Design and build companies can offer several advantages over hiring an architect, including:
Design and build companies streamline the building process by combining design and construction services, reducing miscommunications and delays.
These companies provide a single contact for the entire project, simplifying communication and decision-making.
By managing both the design and construction phases, design and build companies can potentially reduce costs and avoid cost overruns.
However, these are some drawbacks of using a design and building the company over an architect. Such companies generally provide limited design customisation for complex projects and potentially have less legal and regulatory knowledge to ensure compliance with local building codes and regulations than architecture.

Architectural Technologist
An architectural technologist can be an alternative to architects for certain projects, notably smaller or less complex ones. They typically have training in design and technical aspects of building construction since they work closely with architects, engineers, contractors, and other professionals. They can provide design services, prepare construction drawings and specifications, and manage the construction process. However, architectural technologists don't have a broader scope of training and don't know much about design principles and aesthetics, like architects, for complex projects.
Designer/ Online Design Services
Unlike an architect, anyone could be a designer who has a particular education, years of experience, and a relevant licence. Designers may specialise in specific areas such as graphic design, product design, or interior design and work on various projects beyond building design. You can hire a designer in person or find one online and hire to get your design done for renovation or extensions. Many online design services offer pre-designed plans or custom designs. These can be cost-effective but may not be as customised or tailored to the project's specific needs.
DIY/Design Software
You can use several online software by yourself as an alternative to hiring an architect for some smaller-scale or less complex building projects. The users can create basic building designs and floor plans, select materials and finishes and visualise the final product in 3D. Some of the benefits of using DIY design software include the following:
DIY design software is much less expensive than hiring an architect or a design professional.
It can be accessed and used at any time, from anywhere, with an internet connection.
Such software allows users to customise their building design to meet their needs and preferences.
However, designing using DIY design software typically includes less expertise in technical details and building codes, limited capacity for complex or unique projects, and less collaboration and communication than working with an architect. But it's a great way to save money and make a design that you really like.