Designing a home can be an exciting process. However, it is also a tedious task which demands considerable research, decision-making, and budgeting. Our guide below can facilitate you in building your dream home.
Project Brief
Find a Design Professional
Obtain Permits and Approvals
Choose a Builder
Project Brief for Your New Home
By providing a comprehensive project brief, you can effectively communicate your vision and requirements to the design and construction team, ensuring your new home is designed and built to meet your expectations. The project brief should cover the following:
1.     Project Overview:
Design and build a new residential home to meet your needs and preferences.
Create a comfortable, aesthetically pleasing, and functional living space that reflects your lifestyle and taste.
2.     Project Goals:
Design a home that maximises functionality and meets your desired layout requirements.
Incorporate sustainable and energy-efficient design principles to reduce environmental impact and long-term operating costs.
Create a cohesive and visually appealing interior and exterior design.
Ensure high-quality materials and finishes that align with your style and budget.
Ensure strict compliance with local building codes and regulations at every stage of the design and construction process.
3.     Design Requirements:
Determine the size and number of bedrooms, bathrooms, living areas, kitchen, dining space, home office, storage areas, and any other specific rooms or features you desire.
Consider the flow and connectivity between spaces to promote easy movement and functionality.
Prioritise natural lighting and incorporate appropriate window placements to maximise daylight.
Include adequate storage solutions to meet your needs.
Integrate any special requirements, such as accessibility features or smart home technology.
4.     Style and Aesthetics:
Determine the architectural style that resonates with your preferences, whether modern, traditional, contemporary, minimalist, or a fusion of styles.
Choose a colour palette, materials, and finishes that reflect your desired aesthetic.
Consider the overall ambience and atmosphere you want to create within your home.
5.     Sustainable Design:
Incorporate sustainable design principles, such as energy-efficient appliances, proper insulation, efficient HVAC systems, and sustainable building materials.
Explore renewable energy options like solar panels to minimise reliance on conventional energy sources.
Implement water-saving features and consider rainwater harvesting for irrigation purposes.
Integrate passive design strategies to optimise natural ventilation and thermal comfort.
6.     Outdoor Spaces:
Design and incorporate outdoor living spaces, such as patios, decks, or a garden area, to enhance your overall living experience.
Consider landscaping options that complement the architectural style and provide a visually pleasing and functional outdoor environment.
7.     Budget and Timeline:
Determine your budget for the entire project, including design, construction, and furnishing.
Establish a realistic and practical timeline for the completion of each phase, from design development to construction and final delivery.
8.     Project Team:
Identify and engage professionals required for the project, such as architects, interior designers, engineers, and contractors.
Collaborate with the design team to ensure clear communication, understanding, and alignment of project goals.
Finding a Professional Designer for Your New Home
Finding a professional designer for your new home is essential in ensuring that your vision and requirements are translated into a well-designed living space.
Define Your Needs: Clarify your design requirements and preferences. Consider the style, aesthetics, functionality, and any specific needs or features you want in your new home. This will help you communicate your requirements effectively to potential designers.
Seek Recommendations: Ask friends, family, or colleagues who have recently worked with a designer for their home projects. Getting recommendations from people you trust can provide valuable insights and firsthand experiences.
Research Online: Use online platforms and directories to search for professional designers. Websites, social media platforms, and design-oriented forums can provide information about designers' portfolios, expertise, and reviews.
Check Portfolios: Review the portfolios of potential designers to assess their style, creativity, and design approach. Look for examples of projects that resonate with your vision and showcase their ability to work within different design aesthetics.
Read Reviews and Testimonials: Read client reviews and testimonials to gauge the satisfaction level of past clients. This will reveal the designer's professionalism, communication skills, and ability to meet project expectations.
Interview Multiple Designers: Narrow your choices and schedule interviews with two or three promising designers. Discuss your project in detail during the interview, ask about their design process, and share your expectations. Pay attention to their listening skills, ability to understand your vision and communication style.
Consider Experience and Expertise: Assess the designer's experience and expertise in your project type. Some designers specialise in specific styles or types of homes, such as contemporary, traditional, or sustainable design. Choose a designer whose skills align with your project requirements.
Request References: Ask designers for references from previous clients. Reach out to these references to gather more information about the designer's work ethic, reliability, and ability to meet deadlines.
Review Contracts and Fees: Once you've selected a designer, review their contract and fee structure in detail. Make sure to have a clear understanding of the services they will offer, the project timeline, and the payment terms.
Trust Your Instincts: Trust your instincts and select a professional who inspires confidence and understands your design goals.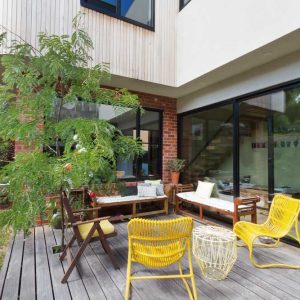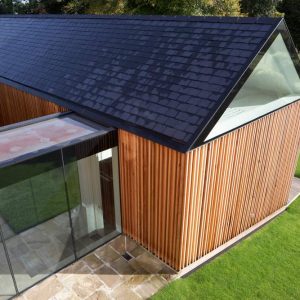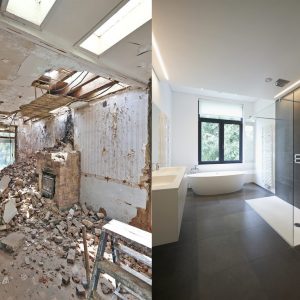 Obtaining Permits and Approvals
When constructing a new home in the UK, obtaining the required permits and approvals is crucial to ensure adherence to local regulations and facilitate a seamless construction process. Here are the general steps to follow:
1.     Planning Permission:
Most new home constructions will require planning permission unless they fall under permitted development rights.
Contact your local planning authority or visit their website to understand the specific requirements, guidelines, and application process.
Prepare and submit a planning application, including detailed drawings, site plans, and required documents.
Pay the relevant application fees.
The planning authority will scrutinise your application, and they may consult with neighbours or other stakeholders.
If approved, you will receive a planning permission notice. If rejected, you may be able to revise and resubmit your application or appeal the decision.
2.     Building Regulations Approval:
Building regulations approval is required to ensure safety, energy efficiency, and other technical standards compliance.
Contact your local building control authority or use an approved inspector to discuss your project and determine the requirements for building regulations approval.
Prepare and submit detailed plans, structural calculations, and other necessary documentation, depending on the complexity of your project.
Pay the relevant application and inspection fees.
The building control authority or approved inspector will review your application and may request revisions or additional information.
Once approved, you will receive a building regulations approval notice.
3.     Other Approvals:
Depending on your project's specific location and nature, you may require additional approvals, such as conservation area consent, listed building consent, or environmental impact assessments.
Consult with the appropriate authorities or conservation officers to determine if additional approvals are necessary.
Prepare and submit the required documentation and follow the application process for each specific approval.
4.     Party Wall Agreements:
If your new home construction involves work on or near a shared or party wall, you may need to execute a party wall agreement with adjacent property owners.
Identify the affected neighbouring properties and serve them with the necessary party wall notices.
Engage in discussions and negotiations to reach an agreement on the proposed works.
If an agreement cannot be reached, appoint a party wall surveyor to resolve any disputes.
5.     Site Inspections:
Throughout the construction process, your local building control authority or approved inspector will conduct site inspections to ensure compliance with building regulations.
Coordinate with the relevant authorities to schedule inspections at various stages of construction, such as foundations, structural elements, electrical, plumbing, and completion.
Choosing a Builder for Your New Home
Hiring the right builder for your new home ensures a smooth construction process and high-quality results. Follow the guide below to hire the right people for the job.
Research and Gather Recommendations:
Seek recommendations from friends, family, or colleagues who have recently built homes or worked with builders.
Research online for reputable builders in your area. Look for customer reviews, testimonials, and examples of their previous work.
Verify Credentials and Experience:
Check if the builder is licensed, insured, and registered with the appropriate regulatory bodies in your country or region.
Review their experience and expertise in building new homes. Consider their track record, portfolio, and the number of years they have been in business.
Interview Multiple Builders:
Shortlist a few builders and schedule interviews with them. Ask about their experience, qualifications, and the types of homes they specialise in.
Inquire about their process, timeline, and how they handle project management and communication.
Kindly request the opportunity to visit some of their completed projects or ongoing construction sites to assess the quality of their workmanship.
Check References:
Ask builders for references from past clients and if possible contact them to inquire about their experience working with the builder.
Questions to ask references include the builder's professionalism, adherence to timelines and budgets, communication skills, and overall satisfaction with the completed home.
Review Contracts and Pricing:
Obtain detailed written contracts from potential builders.
Review the pricing structure to ensure it aligns with your budget and has no hidden costs or surprises.
Visit Current Job Sites:
Visit one or more of the builder's current job sites to observe the construction process and the quality of their work firsthand.
Pay attention to the organisation, cleanliness, and professionalism exhibited by the builder and their team.
Communication and Compatibility:
Consider the builder's communication style and responsiveness. Clear and open communication is vital throughout the construction process.
Assess whether the builder understands your vision, listens to your ideas, and can effectively translate them into the construction of your new home.
Ensure that you have a good rapport and a comfortable working relationship with the builder, as you will be collaborating closely with them throughout the project.
Obtain Multiple Quotes:
Request detailed quotes from the shortlisted builders, including the cost breakdown for various aspects of the project.
Compare the quotes to ensure they align with your budget and that you understand what is included in each quote.
Consider Reputation and After-Sales Service:
Research the builder's industry reputation and commitment to customer satisfaction.
Inquire about their after-sales service and warranty policies to ensure they will address any issues or concerns that may arise after the completion of the project.